At ten years old, my son, an intelligent, inquisitive child was reading at an early kindergarten level. He soaked in stories read read aloud, but, the ability to read independently eluded him. Mrs. Soehner took David under her wing and created a program to help him overcome dyslexia. She is one of thoseraeopeoplewho sees every child as a successful learner and helps them see this too.Her research based approach combined with an ability to connect and communicate with her students works! Each week in the program my son gained ground and confidence. Two years later he placed top of his class in the Grade 6 EQAO reading test.
In David's words "Linda never gave up, even when I couldn't figure stuff out and now I don't struggle with learning".
Thank you Linda
David's Mother
My name is Jayme and I too had difficulty learning to read. I really struggled even though I tried very hard each day at school. By age 9 I felt helpless and extremely embarrassed with my situation. I couldn't even enjoy a family visit to a restaurant because I needed help reading the choices on the menu. Then my mom read about Linda's program in the local newspaper and gave her a call. From this moment on my life changed dramatically for the better.I am in grade eight now. With Linda's program, I have become a confident reader at the Z level and I'm even willing to read text aloud in front of my classmates!! Wow! What a difference this makes. It feels great knowing that I can read and have more opportunities available to me in my life!

Thank you Linda!
Jayme, age 13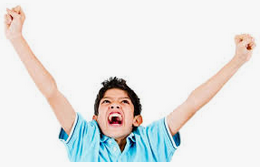 The reading rescue program is by far one of the best ways to enhance English skills. Whether you have dyslexia or ADHD, struggle with comprehension, spelling, and reading, this program will help you refine your skills at a pace and level that is custom your own individualized needs. The staff is very friendly and caring. They have a deep understanding for you and they are always there for you offering a helping hand every step of the way. As someone who was diagnosed with dyslexia, I had very low spelling and reading abilities during my elementary school years. I attended the program for grade five to seven and witnessed a tremendous increase in my abilities both in reading and spelling. The program has allowed me to have the "proper tools in my toolbox" to succeed at school and in life. I have recently been accepted by three universities, Guelph, McMaster, and Western, for an honors arts and science program and kinesiology. I have also received entry scholarships for academics to each of these schools. At my high school graduation, I even received the academic English award for proficiency in senior English. Overall I am eternally grateful for the program and the wonderful staff, they have reshaped and changed my life for the better.
Matthew M